Description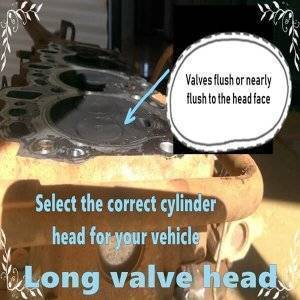 Toyota 1KZ-TE Complete Cylinder Head Flush Valves; please check the image.
A brand new head assembled with valves and camshaft fitted includes gasket set and head bolts.
Fits models with long valves 104.4mm valve length
Contents:
New 1KZ-TE complete cylinder head with 8 new valves ( valves are already fitted )
Camshaft fitted and shim tappets set.
Quality steel shim head gasket, rocker cover gasket, Inlet manifold gasket, Exhaust manifold gasket, The miscellaneous small gasket as required
Cylinder head tightening torque and sequence.
It fits the following models with 104.4mm valve length with the head of the valves flush or nearly flush with the face.
This complete cylinder head will only fit these models, or serious engine damage will occur.
Hilux KZN165 9/1999->2/2005
Landcruiser Prado KZJ120 2002-2006
You can buy with certainty because all our cylinder heads are inspected for casting quality and machining and come with a 12-month unlimited Kms guarantee.
All of our complete cylinder heads are assembled in our Australian workshop.
Our cylinder heads are sold outright – so no exchange necessary, saving you $$$ on return freight.
We sell cylinder heads, engine parts, gasket sets, head bolts, and more; please Phone John.