Description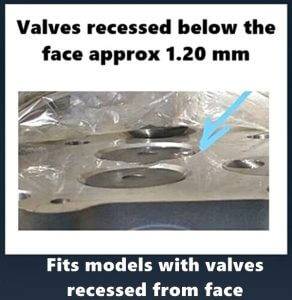 Toyota 1KZ-TE Complete Cylinder Head with Recessed Valves
It fits the following models with short valves 103.4mm valve length; please see image.
A brand new cylinder head assembled with valves, camshaft fitted and shim tappets set.
Contents:
New 1KZ-T complete cylinder head with 8 new valves ( valves are already fitted )
Camshaft fitted and shim tappets set, Quality steel shim head gasket, rocker cover gasket, Inlet manifold gasket, Exhaust manifold gasket, The miscellaneous small gasket as required.
Cylinder head bolts. Cylinder head tightening torque and sequence.
Fits the following models with valves approx 1.20mm below the head face.
This complete cylinder head can be used on all 1KZ-TE models.
If required, please phone for assistance
Imported Hiace 1993 on
Hilux KZN130 (Imp) 1993-1996, Hilux KZN165 1999-2000
Hilux KZN185 (Imp) 1995-2000
Surf KZN139 1993-09/2000
All of our complete cylinder heads are assembled in our Australian workshop.
Our cylinder heads are sold outright – so no exchange necessary, saving you $$$ on return freight.
We sell cylinder heads, engine parts, gasket sets, head bolts, and more; please Phone John.
Free Delivery.